Your loyalty is our only measure of success.
From Fortune 100 companies to single office relocations, we have done it all. We have moved entire libraries, sensitive material, industrial equipment, distributions centers, etc. On the day of your move, experienced foremen direct our efficient and courteous crews as they implement your move plan. Our state of the art trucks are equipped with ramps and lift gates to expedite the moving the process. BIMS maintains the highest standards in protecting both your property and the premises during your move. We are insured and can provide a certificate of insurance when requested. It takes careful and thorough planning. We examine your current and/or future facilitates to determine move logistics, thereby eliminating as much downtime as possible. It takes a single source provider. You can depend on us to coordinate all facets of your move. That means fewer people to deal with and less hassle. It takes flexibility and dependability. Our size and diversity, from crews to equipment, allows quick response to the changing dynamics of the relocation process. As business people, we understand that time is money. Our goal is to effectuate your commercial move in the least time and the most cost efficient manner practicable. We are available to move your offices 24 hours a day, seven days a week to suit your needs.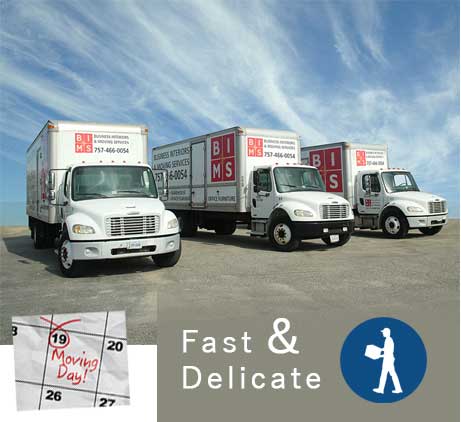 Get a Free Estimate! Contact Us Today to Get Started!